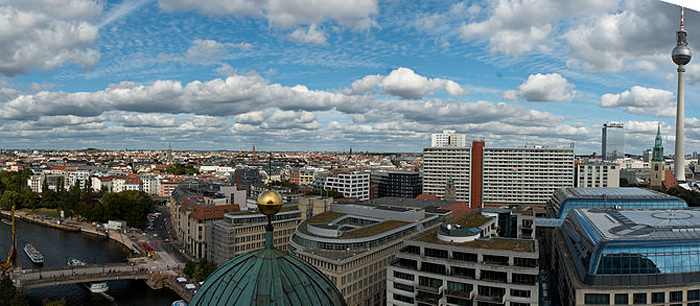 03 Jan

Berlin

Berlin is a metropol, which speaks for itself. It is one of the German federal states as well as the capital of Germany, and it has appr. 3,5 million residents.

Berlin was mentioned first in written source in the 13th century. City became the capital of the Margraviate of Brandenburg (1417-1701), the Kingdom of Prussia (1701–1918), the German Empire (1871–1918), the Weimar Republic (1919–1933) and the Third Reich (1933–1945).  After the World War II, Berlin was divided and East Berlin was the capital of East Germany, while West Berlin became a West German exclave, surrounded by the Berlin Wall. After the German reunificiation in 1990, Berlin became again legitimately the capital of all Germany.

Significant areas

– Mitte. Old historical center and the core of former East Berlin. Here is Unter den Linden, Museumsinsel, and the Brandenburg Gate as well as numerous pubs,  fancy restaurants and galleries.

– North. Here is the Zitadelle Spandau and Reinickendorf area representing beautiful old architecture.  Pankow district is one of the most best-preserved areas of older Berlin.

– East Central. There is decent vegetarian restaurants in Friedrichshain and also a lot of comfy pubs. EC is associated with artists,  countercultures and Turkish immigrants. Kreuzberg district has interesting museums.
What to do and see in Berlin
East Side Gallery
This art memorial of freedom in the Friedrichshain-Kreuzberg district consists the preserved section of the Berlin Wall, the "Hinterland Mauer", which closed the border to West Berlin.  It is 1,3 kilometres long and shows 105 paintings by artists all over the world, painted in 1990, some of them restorated slightly afterwards. It is possibly the largest and longest-lasting open air gallery in the world and a definite must-see.
Museumsinsel
Mitte's most cultural sight. This museum district located in the northern half of an island in the Spree River is one of the top culture sites of Berlin. It consists five museums, all part of the Berlin State Museum complex:
– The Pergamon Museum
– The Altes Museum
– The Neues Museum
– The Alte Nationalgalerie (Old National Gallery)
– The Bode Museum
The museum district has been an UNESCO World Heritage Site since 1999. Berlin City Pass holder has free entry to all museums.
Checkpoint Charlie
During the Cold War, Checkpoint Charlie was the best-known Berlin Wall crossing point between East Berlin and West Berlin. After the reunification of Berlins and Germany it became as a popular tourism spot.  It is situated in the Dahlem neighbourhood and today is the part of the Allied Museum.
Tiergarten
This Berlin's largest park is a charming oasis, being located in the district with the same name in Mitte. It is 342 hectares wide area for strolling and piqueniques. The Berlin Zoo is situated here, and there is also a large playground on the park's southeastern corner, near Potsdamer Platz.
DDR Museum
This museum, being situated at Karl-Liebknecht-Straße 1, depicts every day life and facilities of the socialist East Germany (DDR) between 1949-1990. Museum is located in the former governmental district of DDR, and the exhibition contains e.g. preserved Trabant car, original cinema newsreels, and a reconstructed Stasi interrogation room.
Buy
Flea market at Mauerpark every Sunday is a good place to find souvenirs,  specially DDR-made stuff (medals, street signs etc.) Kurfürstendamm (Ku'Damm) and its extension Tauentzienstraße are popular shopping streets with flagship stores of many international brands. KaDeWe department store at Wittenbergplatz is allegedly biggest in Central Europe and has a very good food department.
Friedrichstraße is the upmarket shopping street in former East Berlin. Galeria Kaufhof department store at Alexanderplatz is also worth a visit.
Recreation
Wannsee is a decent bathing area during the summer, as well as Müggelsee in the south east. The Berlin Expert tours are the most splendid ways for sighsteeing.
Berliini, Saksa

12°C

few clouds
Top 5 in Berlin
Historical Mitte region and its vivid nightlife
DDR Museum
Museumsinsel
East Side Gallery
Strolling in Tiergarten
How to get in Berlin
Berlin has two operating international airports: Tegel International Airport being situated in Tegel, a section of the northern borough of Reinickendorf, 8 km northwest of the city centre of Berlin. List of its airlines is here, information about getting to/from city centre here. Berlin Schönefeld Airport located in 18 km southeast of the centre near the town of Schönefeld. List of its airlines is here, information about getting to/from city centre here.
Long-distance buses arrive at Zentraler Omnibusbahnhof (Central Bus Terminal) in Charlottenburg, Masurenallee. There are numerous buses to all directions or do a 5-minute-walk to the U-Bahn (Theodor-Heuss-Platz or Kaiserdamm or to the S-Bahn (Messe Nord/ICC). BerlinLinienBus operates from many international and domestic locations to/from Berlin, Meinfernbus serves to/from main German cities.
How to get around in Berlin
Berlin is a huge metropol, but its public transportation is efficient and easily learnable in a day or two. One can use bus, tram, train (S-Bahn) and metro (U-Bahn) services to get around. CityTour Card and WelcomeCard make unlimited travel possible.  All tickets are available at vending machines at U- and S-Bahn platforms. The journey planner is here, ticket prices here.
The most flexible way to get around is cycling. Renting a bike is a good option.