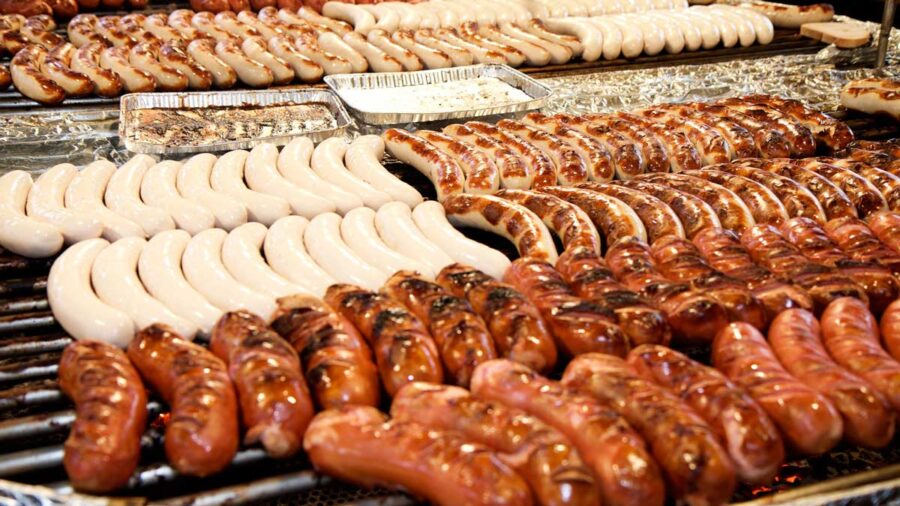 06 Dec

German kitchen

The concept of  "German kitchen" is extremely wide, because there are a lot of regional foods and manners. There are old-fashioned taverns, more than 200 star-rated restaurants and everything in-between which offer something for everyone in the country. The specialty of the northern part of the country is fish. In the region called "Old Land" (Altes Land), located in Lower Saxony and Hamburg, the local inhabitants enjoy the fruits from the orchards. In eastern Germany, potato dumplings are a great delicacy. In the Rhineland, you can make yourself familiar with the Sauerbraten, which is a kind of pot roast. In the south, you can enjoy of egg noodles and sweet treats. Almost everywhere in the country, the humble asparagus is eaten between mid-April and late June.
Breakfast (Frühstück)
Germans drink typically something hot in the morning, for example coffee, tea or cocoa. With it is usually eaten bread with various spreads and toppings, such as butter, margarine, marmalade, honey, quark, sausage and cheese. It is also usual to drink a glass of juice and eat a boiled egg. Especially younger people like to eat cereals, and also Müsli (a mixture of cereal flakes, nuts, dried fruit and other ingredients) is very popular. It is mixed with yogurt or milk and often topped with fresh fruit. 
Grosse Pause (great recess) / Zweites Frühstück (second breakfast) / Pausenbrot (recess bread)
Germans use different words to express a meal that is eaten between the main meals. It is not unhealthy but on the contrary: eating small snacks prevents overeating at lunch and dinner. It is quite usual to eat a snack between breakfast and lunch in German schools, and it is called Pausenbrot or Zweites Frühstück. In Germany, schoolchildren do not generally eat meals at school, so there is quite a long time between breakfast and lunch, which is typically eaten at home. So, the meaning of Pausenbrot is to ensure the students have enough energy and ability to concentrate for the entire morning. Despite the name suggesting bread, it is not necessary. Fruits, yogurt and a Müsli bar are very popular.
Snack (Zwischenmahlzeit)
The snack for adults is called Zwischenmahlzeit. Some other names are Brotzeit (bread time), Vesper and Zweites Frühstück. The English word Snack as well as the word Imbiss are also used, although they refer to actual meals meant to replace main meals, whereas Zwischenmahlzeit is an addition to the main meal.
Lunch (Mittagessen)
Germans eat their main meal traditionally between 12 and 2 p.m. The tradition to eat warm meal in the evening has become more popular. A typical lunch plate consists of potato salad with sausage and meat balls, noodles with stir-fry, schnitzel with buttered vegetables or fish sticks with mashed potato. Meat is eaten almost daily, especially pork and chicken. Vegetables also are an important part of lunch. Especially green beans, carrots, peas and cabbage are popular. Potatoes are served in different forms: as boiled, dumplings, fried potatoes, croquettes, mashed potatoes and, of course, French fries. Rice and noodles are eaten as side dishes.
Evening Meal (Abendbrot)
Translated literally, Abendbrot means literally evening bread. It is a light meal eaten usually between 6 and 7 p.m., because Germans generally eat their main meal during the day. In the evening meal is served whole grain bread, cheeses, deli meats, sausages, mustards and pickles. Also gherkins are popular. Depending on the season, also salad and/or soup is eaten during the evening meal. Young people drink typically mineral water or a glass of juice with the meal.
Coffee and Cake (Kaffee und Kuchen)
Kaffee und Kuchen means coffee and cake, and it is very similar to the English tea tradition. Families gather together in the afternoon to drink coffee and enjoy a few slices of homemade cake. Typical cakes are Schwarzwälderkirschtorte  (a cherry cake from the Schwarzwald region), Bee Sting Cake (Bienenstich), Käsekuchen (cheese cake made from quark) and different fruit tarts, such Zwetschenkuchen (plum tart) and Apfelkuchen (apple tart). If there is no time to bake at home, many people buy different pastries from bakeries, such as poppy seed pasty or Apfeltasche, an apple-filled strudel-type pastry pocket.
With cake and pastries, it is usually served coffee with cream or milk. Over the last decade, also the popularity of tea has increased, especially in Eastern Friesland, which has been a traditional tea region.