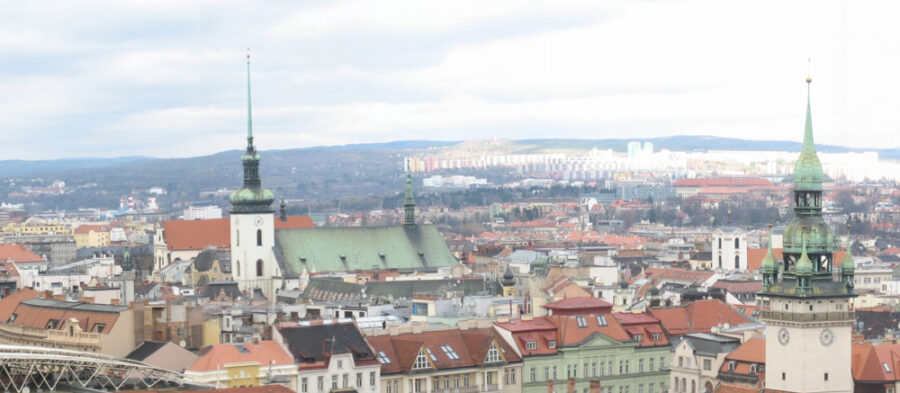 14 Dec

Brno

The lovely Brno is the second largest city in the Czech Republic and the center of Moravia. It has appr. 377, 000 residents. The city was first mentioned in a written source in 1091, and it has seen the regimes of the Moravian margraves, the Austrian Habsburg dynasty and the independent Czechoslovakia until the state partition in 1993.

Brno has 484 legally protected historic sights as well as the currently tallest building in the Czech Republic, the AZ Tower skyscraper.
What to do and see in Brno
Cathedral of St. Peter and Paul
The Cathedral of Brno, lying on the Petrov Hill, is one of the most important Moravian historic sites. Its history began in the 11th century, when the Romanesque chapel was built on the site. In the 13th century it was rebuilt into a basilica, and after that it was reconstructed with heavy Gothic inluences. The church was seriously damaged during the 30 Years War, but it was decently reconstructed afterwards.
Moravian Square
This square is the biggest in Brno and is located in the historical center. It's dominated by the Church of Saint Thomas which is the last resting place of Jobs of Moravia, German King and Margrave of Moravia. The nearby former Governor's Palace offers permanent exhibitions of the Moravian Gallery.
Recreation
Treasure Hunt Brno
A fun treasure hunt game can be found at the address Čechyňská 8. It is a group competition that uses modern technology and GPS-enabled tablets to get teams to visit the most important historic monuments and buildings in+ Brno. A great activity for larger groups and companies who want to experience Brno in a fun and fast way.
Shopping
The Ceska and Masarykova streets form the shopping district of Brno. These two streets are tied together by the Namesti Svobody square. The area has a good combination of gift shops, restaurants and fashion stores.
Josefska street offers high-quality golden jewelry and souvenirs.
Brno, Tsekin tasavalta

19°C

thunderstorm with light rain
Top 5 in Brno
Strolling in historic centre
Shopping at Ceska and Masarykova streets
Cathedral of St. Peter and Paul
Treasure Hunt Brno
Tasting beer at Pegas brewery pub
How to get to Brno
Prague–Vienna and Prague–Bratislava–Budapest railway lines stop in Brno all EC and RJ trains stop here. Tickets sold at the Prague train station for 210 CZK. Advance online tickets start at 189 CZK. Tickets sold at the Vienna train station cost €26. Advance online tickets start at €9.
Several bus operators offers lines to Brno. Bohemian Lines has connections between Brno and Scandinavian cities such as Oslo, Copenhagen and Stockholm. Copenhagen €57 (1500 CZK), Stockholm €67 (1750 CZK). Eurolines CZ and Student Agency also provide bus lines from e.g. Vienna.
The E50 highway connects Prague to Brno (206 kilometres) while the D2 (131 kilometres) connects Brno to Bratislava, Slovakia. A driver needs a toll sticker for the highway.
How to get around in Brno
The Integrated Transport System of the Southern Moravia Region offers buses, trolleybuses, trams and local trains in Brno. Daytime transport ends at 11PM after which night buses go hourly and have their central hub at the Main Station. The timetables and prices are visible here.
There are two different ticket types for journeys within the city, a short transfer ticket (valid 15 min, Kč 20), as well as a long transfer one (60 min, Kč 25). Tickets are available at yellow ticket vending machines at bus and tram stops, as well as at railway station counters. You can buy a 60-minute ticket from the driver for Kč 35.