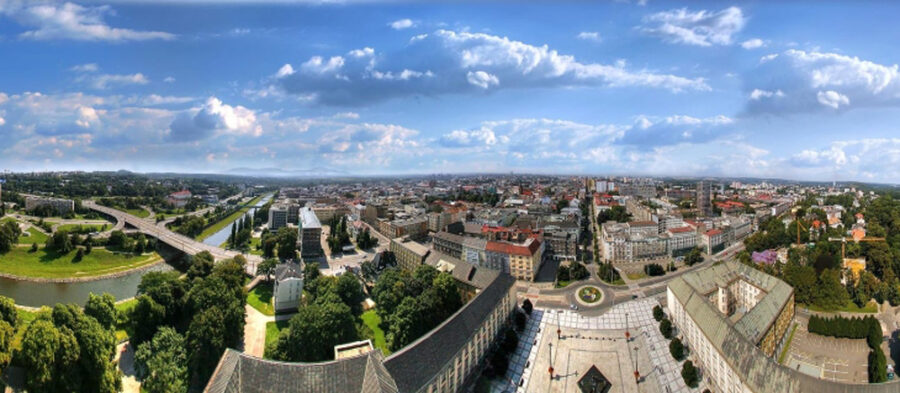 14 Dec

Ostrava

Ostava is located in the north-eastern part of the Czech Republic, where four rivers cross: the Odra, the Opava, the Ostravice and the Lučina.
What to do and see in Ostrava
The Miniuni
This miraculous miniature village, spread over 1.5 hectares, consists of 30 models depicting significant European buildings, like the 12-meters tall Eiffel tower, the Big Ben, the Old Town Hall and the Brandenburg Gate. The scale of the models is 1:25. The area also has miniature railway lines with little trains running across the grounds and waterways with a steamship. A splendid all-family site.
Castle
This castle was originally built in the late 13th century and reconstructed in the 14th century usingRenaissance-style. It burned down in 1872, but was rebuilt once again. Now fully restored, it serves as an important tourist attraction, and houses an annual music festival, the Colous of Ostrava
Recreation
NIGHTLIFE

Stodolní street is the center of the nightlife in Ostrava. The area has plenty of pubs, clubs and restaurants. Live music venues offer a wide range of music, from jazz to rock.

VINTAGE RIDE

The city offers special sightseeing tours in vintage steam-locomotive-pulled trams, trolleybuses and buses. Some of the trams, including the well-known Barborka tram, can even be ordered for special occasions. Information about these tours is visible here.

Shopping

 

Examples of shopping centers in the city: Futurum, Avion, Tesco, Prodlouzena and Sjidzna.
Futurum offers plenty of clothing related wares, like wigs, furs, leather products, Italian fashion, fashion clothes for girls, underwear, men´s and women´s confection, sportswear and shoes. The services of the center include a bank, a florist, a hairdresser, a pharmacy and a currency exchange office. The mall has 7 restaurants and fast food outlets.
LASO, a mall in the city center, offers a wide range of different products like foodstuff, clothes, shoes, sportswear and household goods. It also has a pharmacy.
C&A sells fashionable clothes.
Bata is a high-quality shoe shop.
Uva is a shop offering handmade vases as well as other glass and porcelain products, tablecloths, dolls in folk costumes and much more.
Ostrava, Tsekin tasavalta

23°C

clear sky
Ostrava Top 5
The Miniuni miniature town
Sightseeing tour with a vintage tram
Castle
Pub tour in Stodolní Street
The Ostrava Zoo, Michálkovická 197
How to get in Ostrava
Ostrava has a small international airport here. List of airlines is here.

The Czech Railways and the LEO Express offer trains from Prague. CR has connections to Ostrava from Olomouc, Brno and Warsaw.

There is a bus shuttle to Ostrava from the Polish Katowice Airport, which operates eight times a day with the timetable fixing the rush hours of the Airport's air traffic. Ticket pricing and timetables are visible here, airlines and destinations of the Katowice Airport are here.
Road D1 goes from Prague to Ostrava (371 km) and the roads E462 and D2 from Brno (168 km). For driving in the Czech Republic, a toll sticker is mandatory – info visible here.
How to get around Ostrava
There is excellent tram and bus networks in Ostava with relatively cheap ticket prices. Transport is available 24 hours a day, however there is a reduced service between midnight and 4 AM. On weekends you can use one 24-hour ticket for group 2 adults and 3 children. Information about pricing and timetables here.